White Dorper Sheep
The white dorper sheep are a very fast growing, heavily muscled sheep that have a high feed conversion and are extremely easy keepers. The Dorpers require little grain (I do give some through the very harsh winters), and maintain condition on poorer pasture. They are able to lamb three times in two years, and have lots of rich milk for raising their lambs. I find them very easy to work with as they have a calm easy going temperament. I lamb out in February/ March and will have commercial Dorper cross (most 3/4 Dorper, 1/4 Romanov or Katahdin) available summer 2013 as well as Fullblood White Dorper Ram lambs and Ewe lambs in the fall of 2013. For more information please contact:

[email protected]
49A- a very thick masculine ram with show quality. Placed first in class at Agribition. 2nd picture - Brother is 81b. He is a big bodied ram with lots of muscling and a good hair coat. Twin to 2015 Agribition Grand Champion ewe. Halter broke, nice quiet, $600.

---

SOLD - 607b- a bit shorter but with all the length and thickness a dorper ram should have. $500 - SOLD

---

SOLD - 86b- unregistered fullblood. A good growthy commercial ram lamb. Nice body, muscling and testicles. $400 - SOLD

---

DBD Banter 605B
He is a well thick muscled yearling. Lots of growing yet, will be a big impressive ram. Should shed completely at maturity.

---
2014 white dorper rams available.  Photos to follow.
Two fullblood rams on offer at the agribition sale November 29th 2014.

---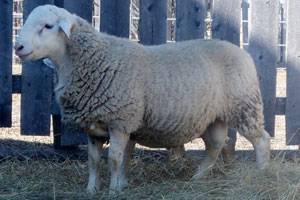 Ram 8Z
Guard dogs and sheep grazing
"Rabbit" at birth
FB White Dorper ewe at 7 years of age CCD1375R
FB White Dorper ewe at 6 years of age (bred) CCD1037S
1156R with her five day old lambs